Courtesy of Kevin Mazur/WireImage
Three cheers for Tina Fey! Today is her birthday and we think that's a cause for celebration, don't you?
Beginning in the late '90s, circa 1997 to be exact, Fey has been making us laugh as a writer on Saturday Night Live and then a star on the sketch comedy show and our world hasn't been the same since…thank goodness.
After SNL, the fierce female took comedy to the next level with her own series, 30 Rock, and films like Mean Girls, Baby Mama, Sisters and more as an actress, writer and producer. Oh, and then there was Netflix's Unbreakable Kimmy Schmidt.
Clearly, Fey has been keeping herself busy, but she hasn't been doing it all alone. She's had one of the funniest girls in Hollywood by her side…Amy Poehler!
As we celebrate the Pennsylvania native turning 49 years old, we've decided to give it up for the girls—Fey and Poehler that is!
The funny gals have formed one of Hollywood's favorite friendships and we love it so much that we will use any excuse to talk about it.
Fey and Poehler have acted alongside one another, appeared in each other's projects, been through pregnancies together and through it all they've laughed with each other and made life much more enjoyable.
Now that we're talking about Fey and her incredible career, we might as well talk about her sweet friendship with Poehler, because it's one of the good ones. See their cutest BFF moments in photos below!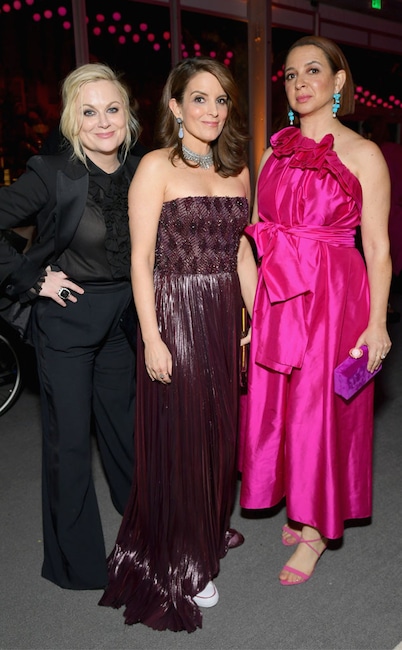 Emma McIntyre /VF19/WireImage
Vanity Fair Oscars Party Pals

Funny ladies, Amy Poehler and Tina Fey hung out with their other favorite funny gal, and frequent collaborator, Maya Rudolph at the 2019 Vanity Fair Oscars party and their style game was on point.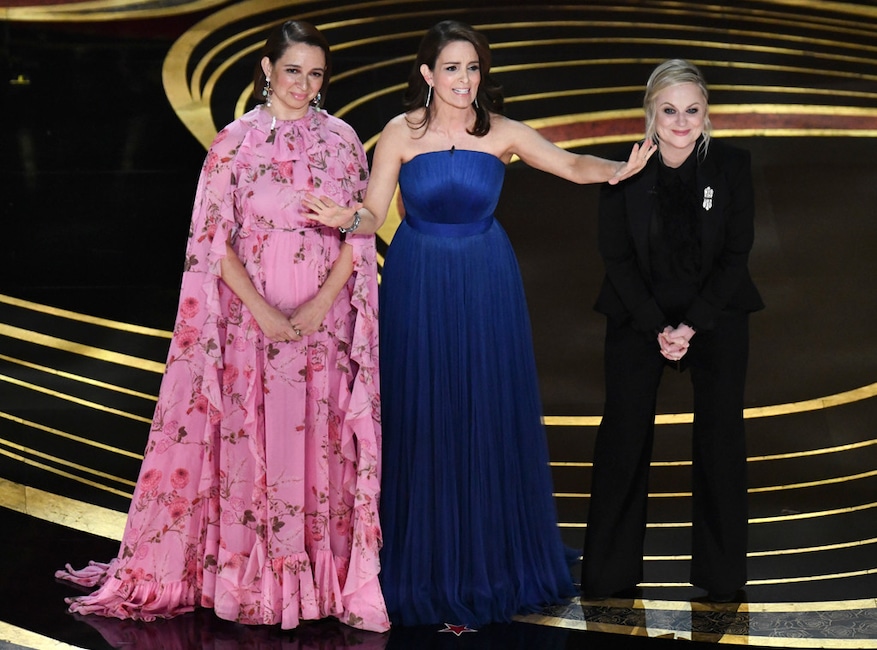 Rob Latour/REX/Shutterstock
Academy Awards Scene Stealers

The dynamic trio kicked off the 91st Annual Academy Awards welcoming everyone in attendance and they totally stole the show making us wish they were the hosts all night long since there wasn't a host at all.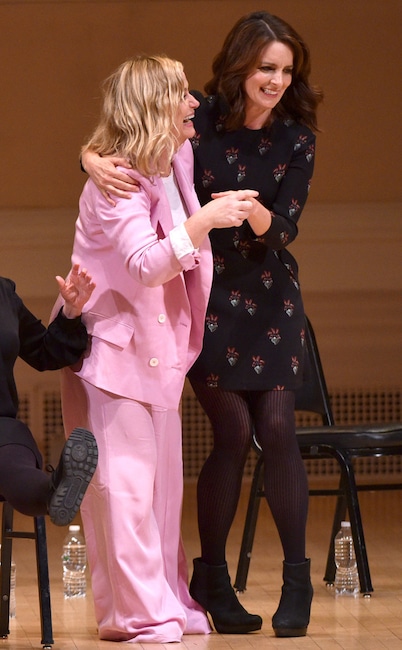 Bryan Bedder/Getty Images
Upright Citizens Brigade Reunion

For the 20th Anniversary of the Del Close Marathon in June 2018, the UCB co-founder reunited on stage with her Whiskey Tango Foxtrot bestie for an unparalleled improv performance.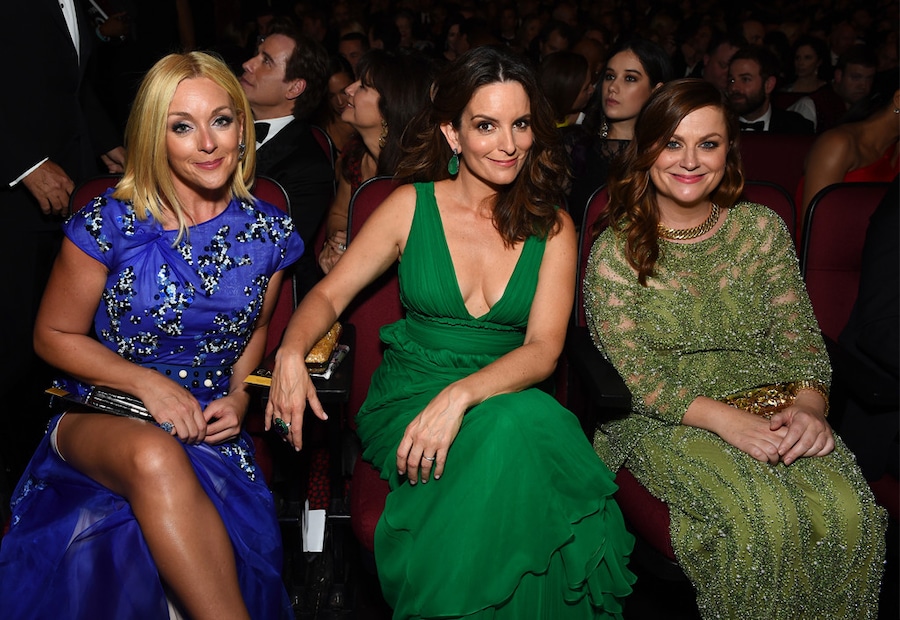 Matt Sayles/Invision for the Television Academy/AP Images
Green With Envy Emmy Buddies

At the 68th Primetime Emmy Awards, the brunette and redheaded besties were like two peas in a green-dress wearing pod in 2016, winning an Emmy for Guest Actress in a Comedy Series for their holiday Saturday Night Live special.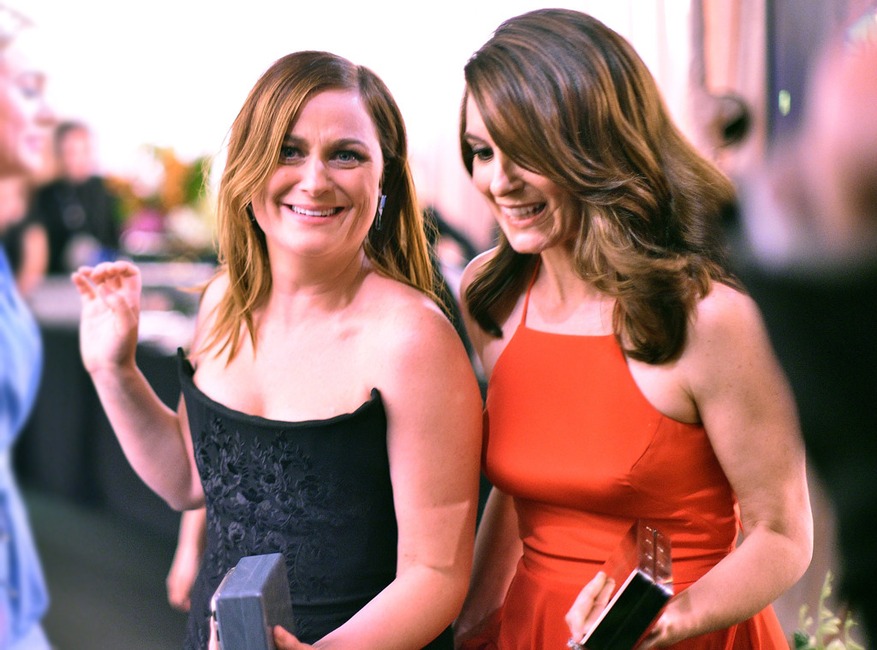 Stefanie Keenan/Getty Images for Turner
SAG Awards Sweethearts

At the 22nd Annual Screen Actors Guild Awards, the radiant friends presented Carol Burnett with the Life Achievement Award. During their speech, the famous comedians praised the comic legend for The Carol Burnett Show, saying, "Besides seeing the comedy every week, and how funny she was, and how beautiful she looked, it was important for us to see that Carol was also the boss. It was her show. And that implanted in our brains, and it made us dream of a life where we could get paid to make comedy with our friends, but also be their boss."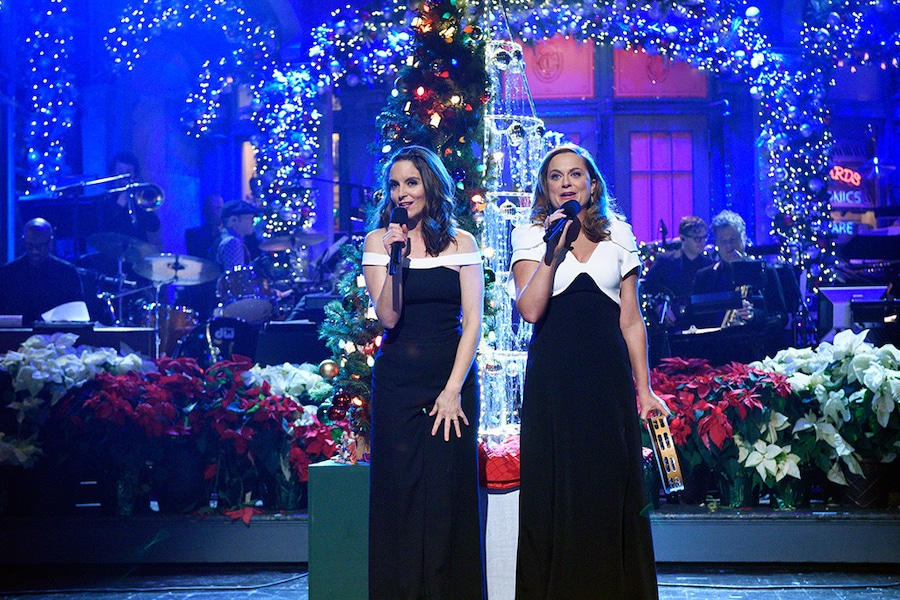 Dana Edelson/NBC
Merry Christmas Cuties

All we want for Christmas is a BFF mash-up song as iconic as Fey and Poehler's! The two queens of comedy took turns singing sections of their original song in 2015, on the sketch show where they got their start AKA Saturday Night Live, and the end result was just as funny as you'd imagine.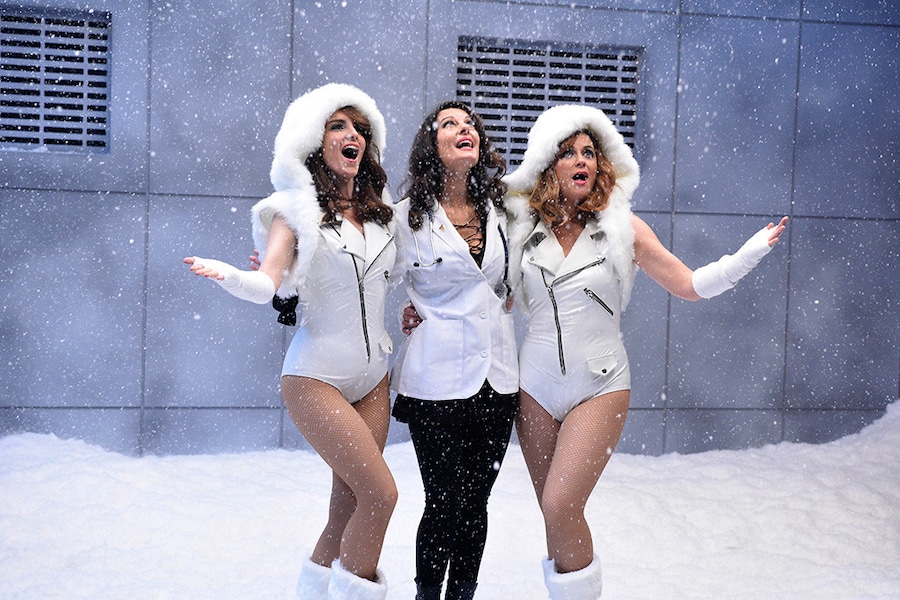 Dana Edelson/NBC
"Dope Squad" Gang

The duo poked some fun at Taylor Swift's "Bad Blood" music video and girl squad with their SNL parody, "Dope Squad" in 2015. Rather than featuring Swift's crew of young, A-list celebs, Fey and Poehler's hilarious performance honored everyday women, from gynecologists to nannies.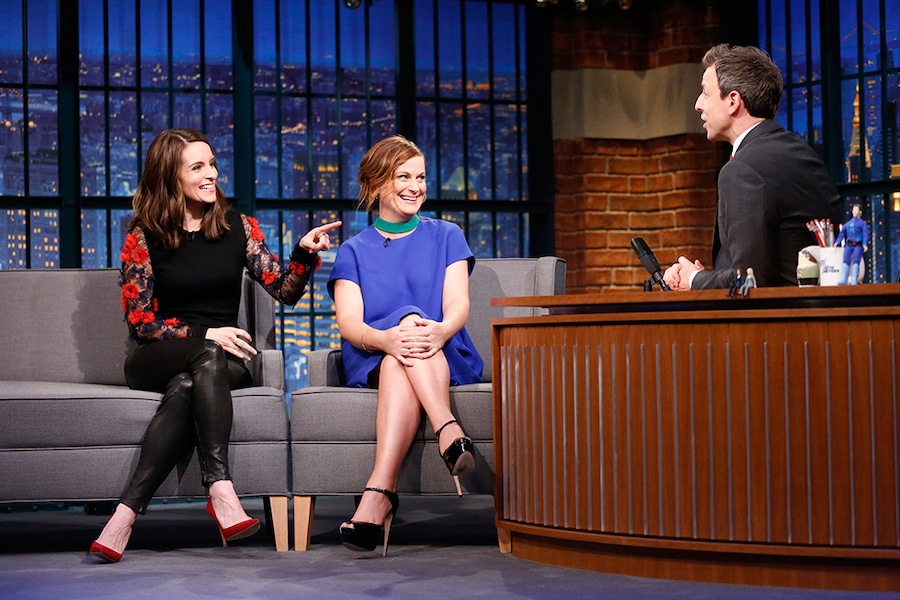 Lloyd Bishop/NBC
Talk Show Twins

In December 2015, the two comedians jokingly discussed their relationship status as each other's working wife while catching up with their mutual friend Seth Meyers on his talk show, Late Night With Seth Meyers.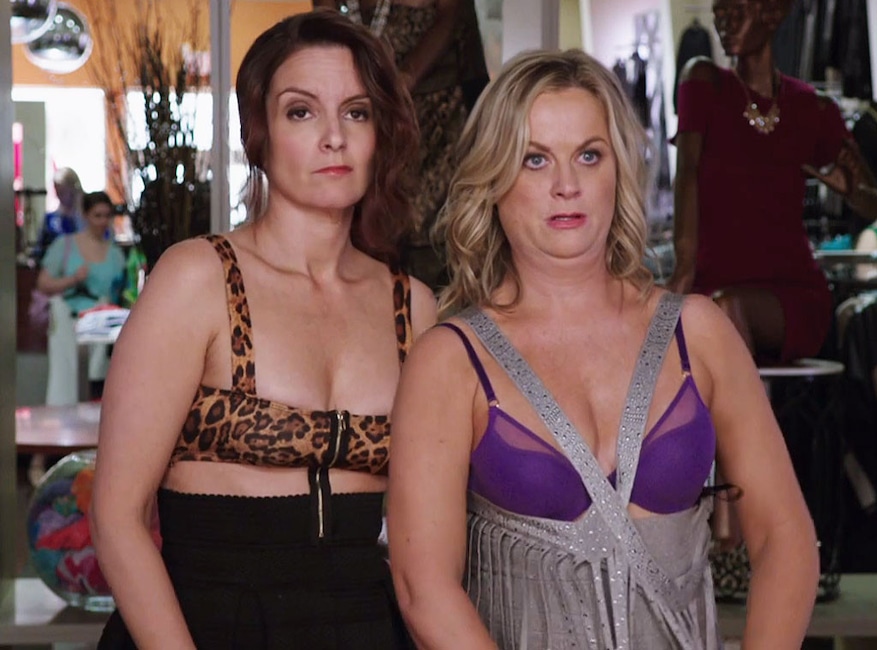 Universal Pictures
Sister, Sister

The Hollywood besties played estranged siblings in the hilarious 2015 comedy Sisters and trust us, you can't help but laugh when you watch them together.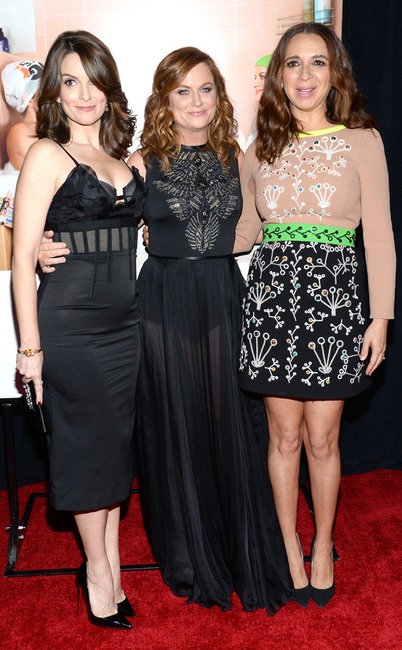 Evan Agostini/Invision/AP
Sisters Premiere Pretties

These soul sisters saw their sisterhood play out on screen with co-star Rudolph at the Ziegfeld Theatre in NYC back in 2015.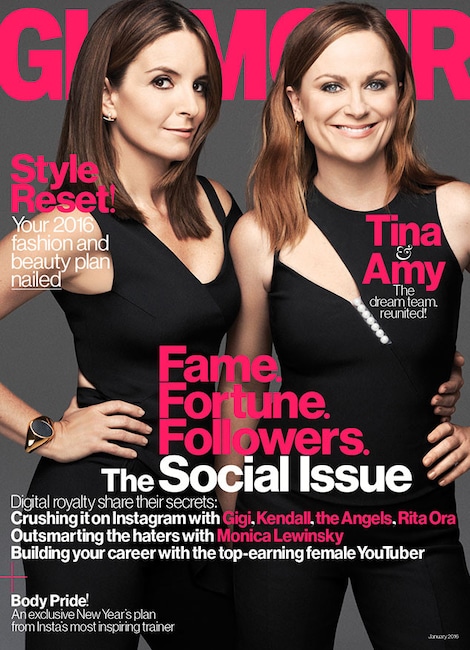 Steven Pan
Glamour Girls

The dream team looked sexy and sleek in their featured profile with Glamour, for their 2015 cover, in which they discussed what it means to "dress sexy" in their forties.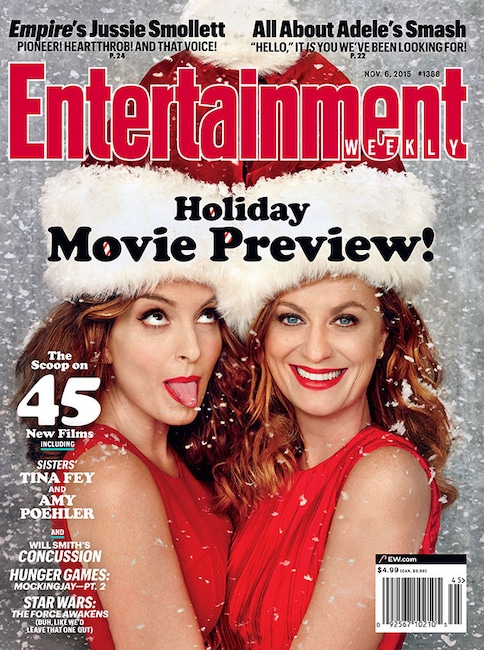 Ruven Afanador
Holiday Hotties

Gracing the cover of Entertainment Weekly for its holiday issue in 2015, the friends of over 20 years promoted their movie Sisters, leading up to its winter release.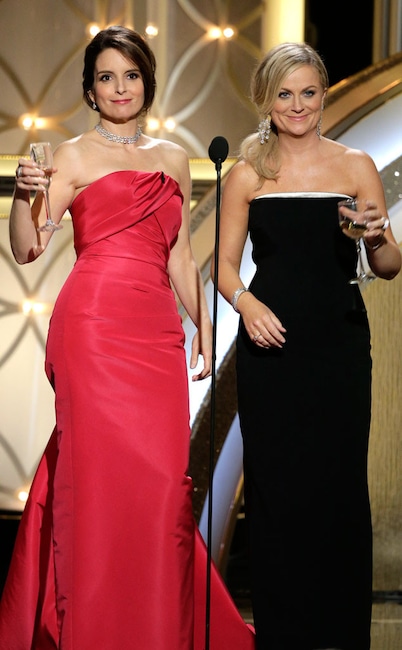 Paul Drinkwater/NBC
Golden Globes Champagne Stars

The entertaining co-hosts raised a glass during the opening ceremony of the 71st Golden Globe Awards in 2014 and they had us laughing all night long. Poehler started off the show with a quick jab at Matt Damon, joking, "In any other night in any other room you would be a big deal. But tonight, and don't take this the wrong way, you're basically a garbage person."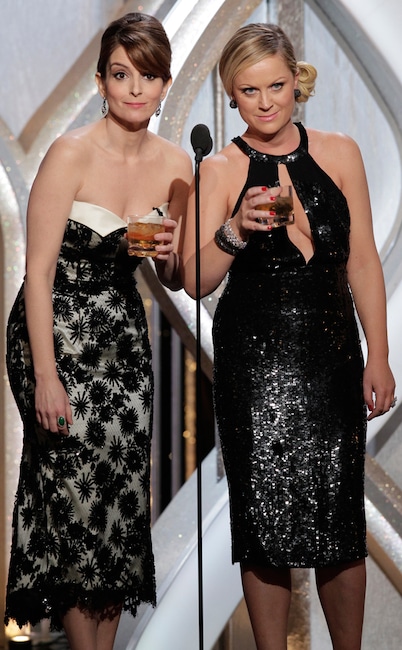 Paul Drinkwater/NBC
Golden (Globes) Toast

Bringing drinks to the stage, the co-hosts joked at the 2013 award show, "Well, the show has really taken a turn. Time to start drinking."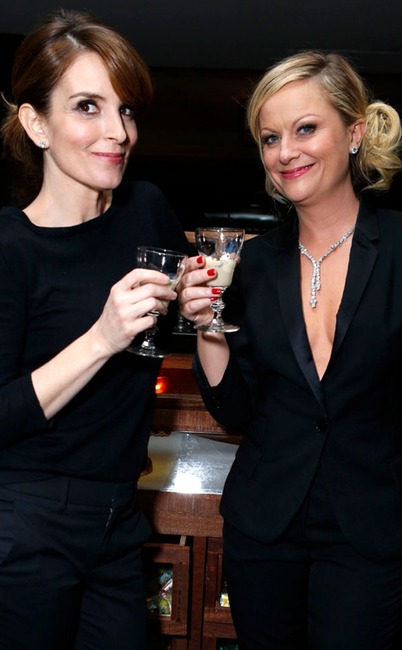 Alexandra Wyman, Wireimage
Drinking Buddies

Cheers! The ladies enjoyed drinks at a Bailey's-sponsored after party at Soho House while twinning in all black ensembles.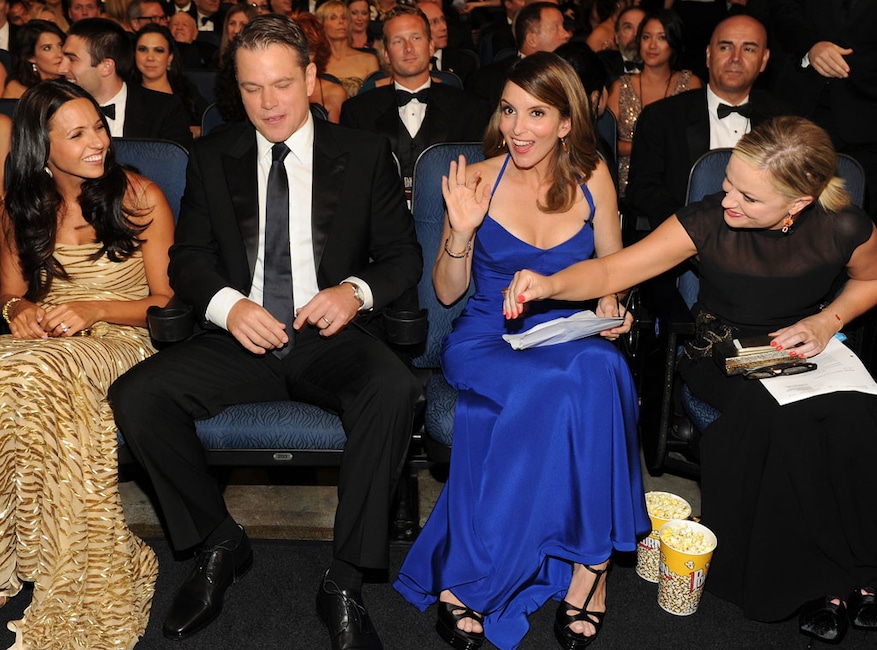 Frank Micelotta/Invision for Academy of Television Arts & Sciences/AP Images
Jokes on You

Funniest hosts ever? We sure think so! Plus, they had hilarious zingers like this one to make sure fans laughed throughout their 2013 Golden Globes show saying, "The Hunger Games was one of the biggest films of the year, and also what I call the six weeks it took me to get into this dress!"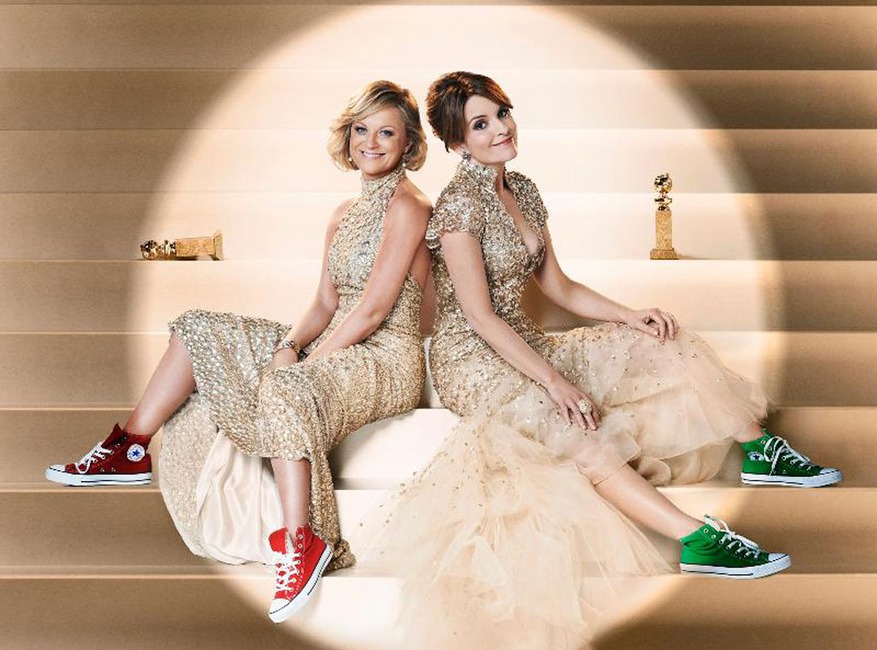 NBC
Goddesses Wear Sneakers

Of course the funny ladies aren't afraid to rock Converse sneakers in this 2013 Golden Globes promo! We wouldn't expect anything less from the super cool pals.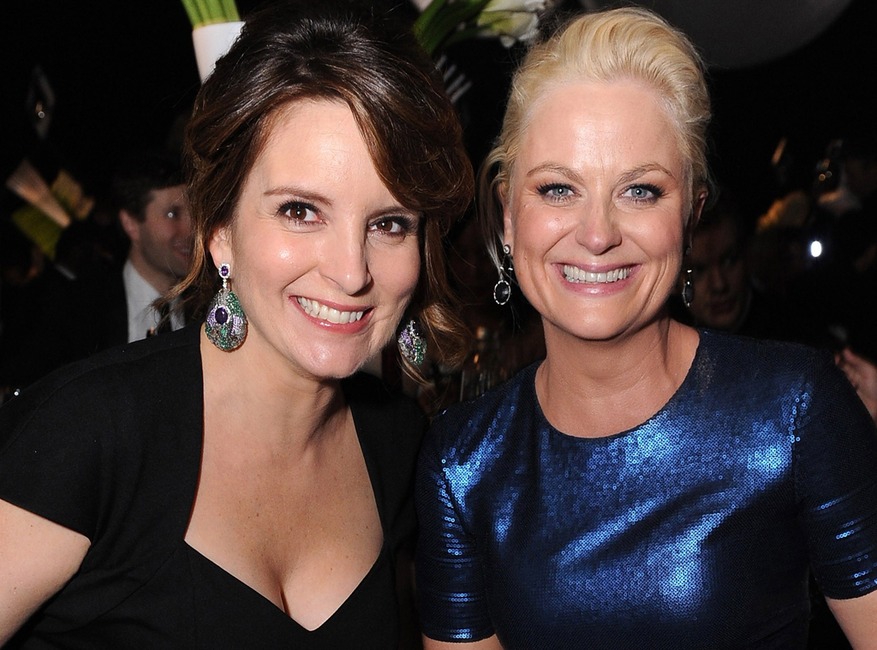 Jordan Strauss/WireImage.com
Emmy Queens Unite

This pic was taken just one month after Fey gave birth to her second child in 2011 and the new mama looks positively glowing while seated next to her BFF.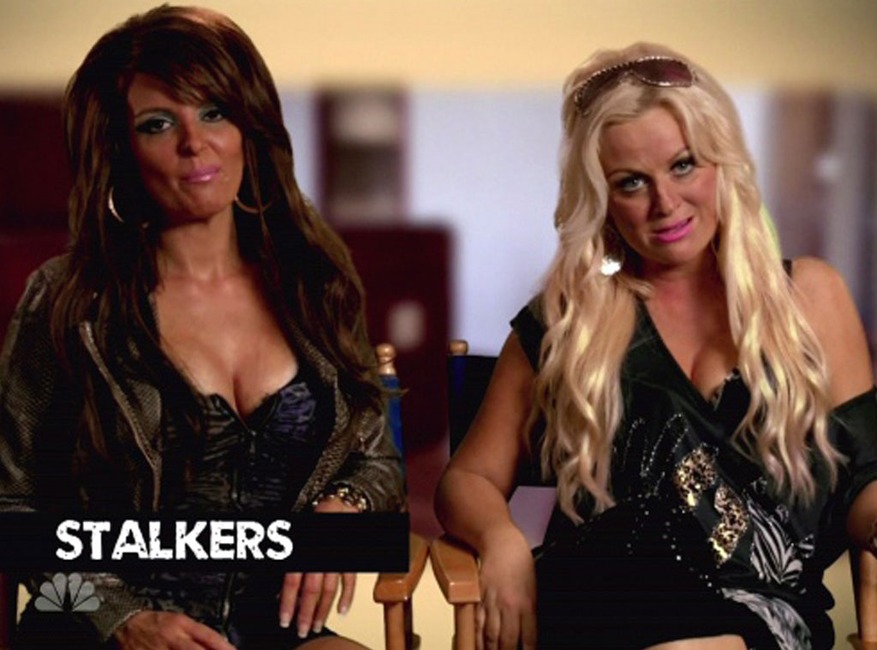 NBC
Seaside Sass

Is there anything better than Poehler and Fey spoofing the Jersey Shore on Late Night With Jimmy Fallon? We think not!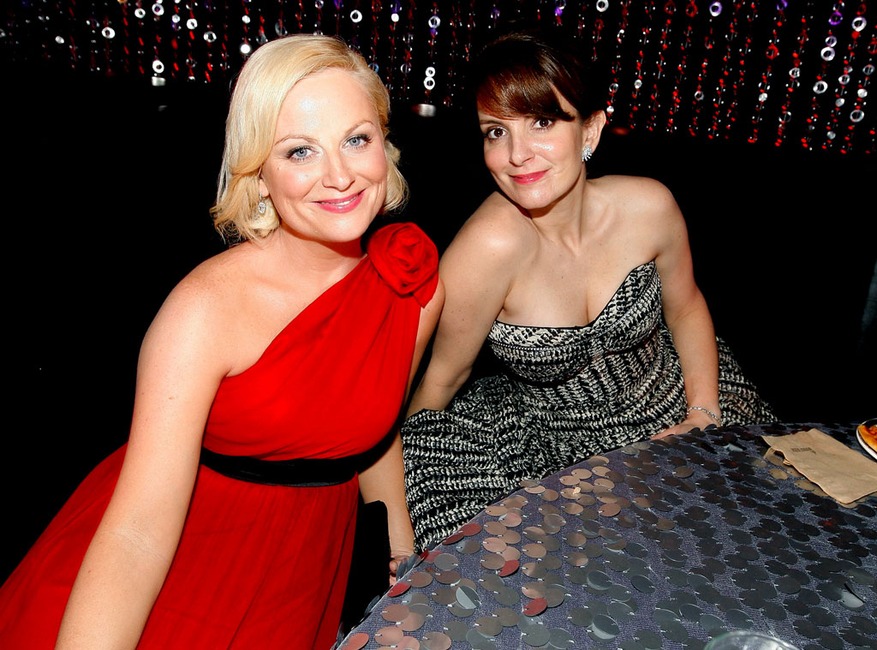 Christopher Polk/Getty Images for NBC Universal
All Dressed Up

We bet these two famous friends didn't think they would be hosting the Golden Globes a few years later when they posed for this pic in 2010.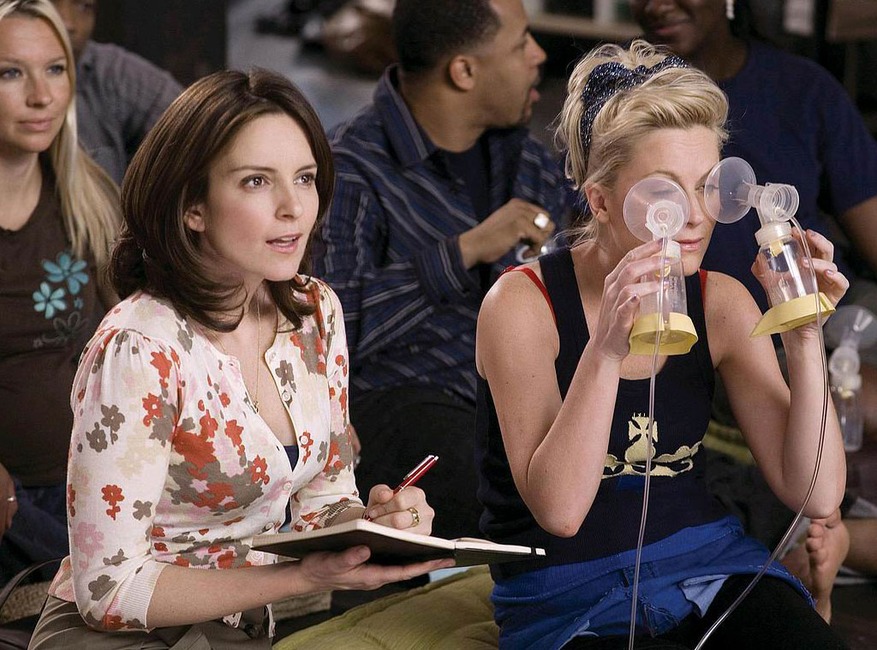 Universal Pictures
Baby Mama Babes

Obsessed with the hilarious pregnancy flick Baby Mama? You're not alone. We couldn't stop laughing when Poehler peed in the sink after type-A Fey baby-proofed the house.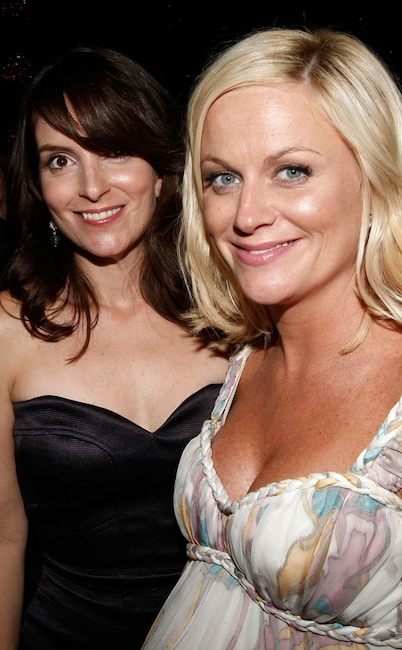 Kevin Winter/Getty Images
Preggers Together

A very pregnant Poehler walked hand-in-hand with her pal at the 2008 Emmys where the twosome presented the award for Outstanding Supporting Actor in a Comedy Series together.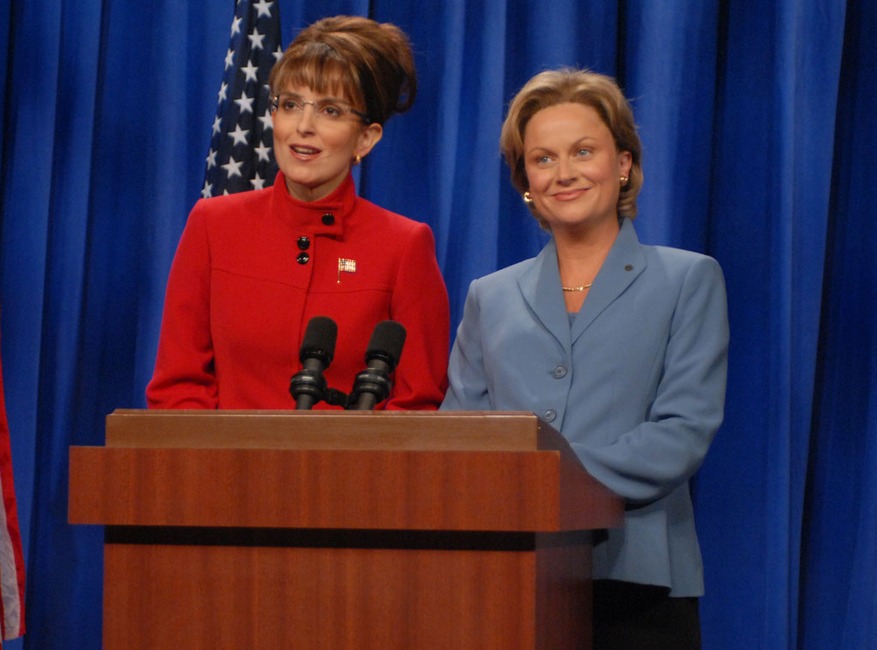 NBC
Political Powers

Is that you, Hillary Clinton and Sarah Palin? Oh no, it's just our favorite funny gals in one of the best Saturday Night Live skits ever. In fact, Fey won the Primetime Emmy Award for Outstanding Guest Actress in a Comedy Series for her Palin impersonation.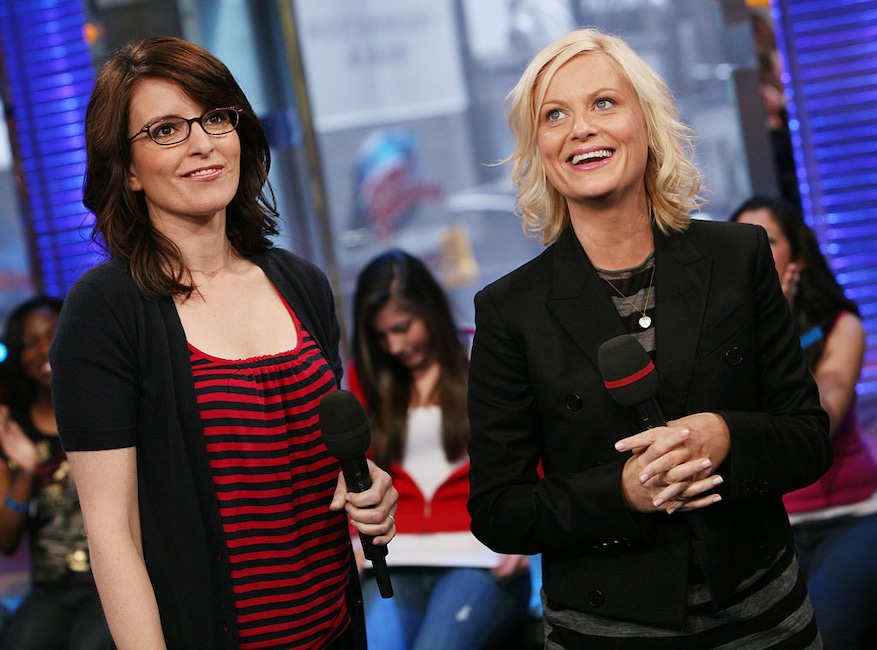 Scott Gries/Getty Images
Total Request Live Twosome

The dynamic duo appeared onstage together at the MTV Times Square studio for an episode of the popular music video series back in 2008.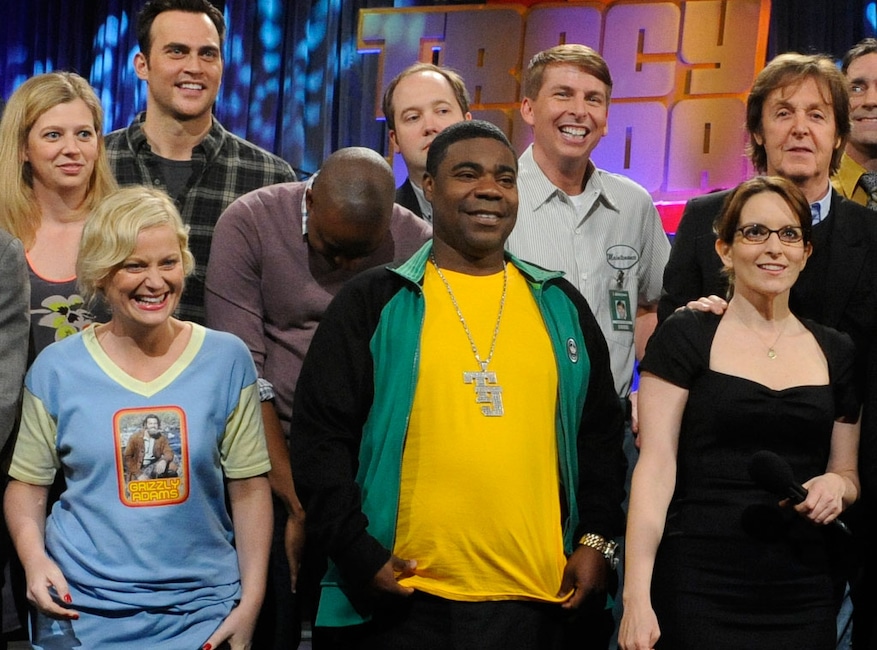 Dana Edelson/NBC
30 Rocking Together

Not only have the BFFs teamed up on SNL and the silver screen, but Poehler also guest-starred on Fey's Emmy-award winning series, 30 Rock.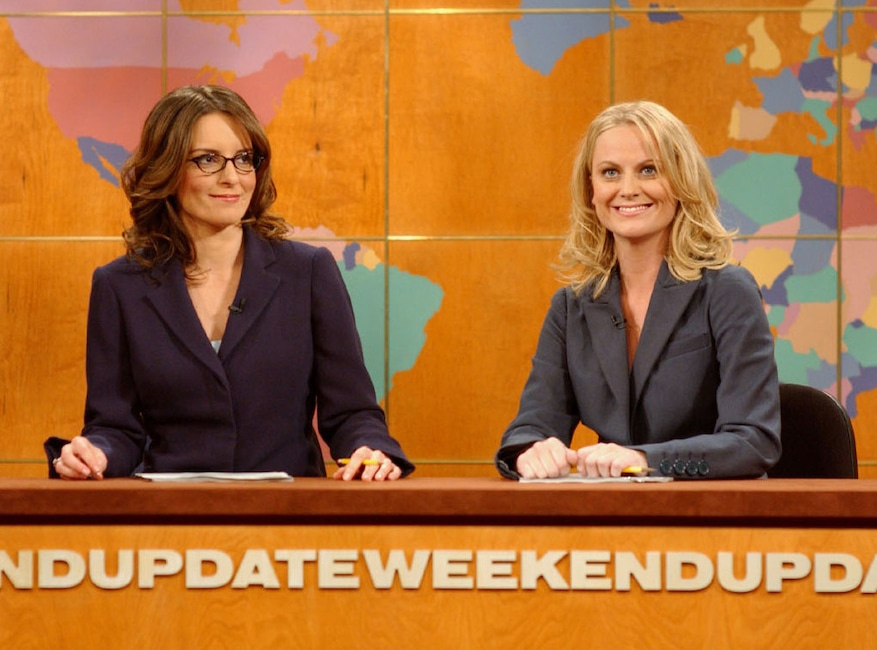 NBC
Where It All Began

Live from New York, it's the queens of Saturday Night Live! Over a decade ago, back in the early 2000s, these comedy legends regularly co-anchored the hilarious fake news segment, "Weekend Update" and we still miss their funny banter every weekend.
var fbstarttime = new Date(); !function(f,b,e,v,n,t,s) { if (f.fbq) return; n = f.fbq = function() { n.callMethod? n.callMethod.apply(n,arguments):n.queue.push(arguments) }; if (!f._fbq) f._fbq = n; n.push = n; n.loaded =! 0; n.version = '2.0'; n.queue = []; t = b.createElement(e); t.async =! 0; t.src = v; s = b.getElementsByTagName(e)[0]; s.parentNode.insertBefore(t, s); }(window, document, 'script', 'https://connect.facebook.net/en_US/fbevents.js');
fbq('init', '1611373942516879'); fbq('track', 'PageView');
var fbendtime = new Date();
Credit: Source link